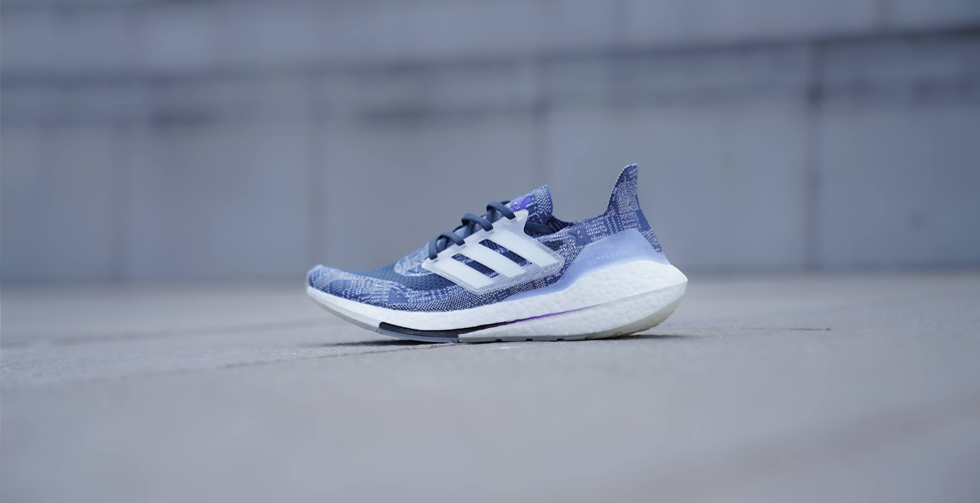 adidas Ultra Boost
848 articles
Three high-performance technologies fuse into one world-beating running shoe.
Ultra Boost
February 2015 saw the release of the adidas Ultra Boost in New York City. Accompanying its launch were lofty claims that it was "the greatest running shoe ever". Audacious though this statement may have been, it was one that they could back up. The shoe was the culmination of years of development and united three new adidas technologies: Boost, Primeknit and Torsion. Before the Ultra Boost can be understood, it is important to know why these technologies are so vaunted.
Adidas' LEP Torsion technology is the oldest of the three, having been around since the 80s. First released on the ZX8000, it is essentially a plastic bridge arch that allows the forefoot and heel to move separately from each other in one natural movement. It gives structure and protection but is flexible enough to give control and a smooth rolling motion through the full length of the foot.
Boost technology was a breakthrough for running. The Boost midsole was constructed using hundreds of tiny foam capsules which were melded together through a steam heating process. This process helped create a shoe with highly efficient energy return that was 20% higher than that achieved using traditional EVA foam. Originally developed by chemical manufacturer BASF, adidas attained legal permission to implement the technology in their designs before developing and fine-tuning it for their own purposes with the help of some of the world's best athletes.
Primeknit was the last piece of the puzzle. The technology consists of a one-piece 3D-knitted upper that makes for an extraordinarily lightweight, breathable and yet highly supportive material.
In addition to Boost, Primeknit and Torsion, adidas paired the shoe with a durable Continental rubber sole and a TPU mould at the heel which merges into a three-stripe shell and up through a robust lacing framework.
All these extras elevated the adidas Ultra Boost to the very top of the tree, making it into a perfect running sneaker. At the time of its release, Matthias Amm, adidas' Product Category Director for Global Running, marvelled at the supreme quality of the shoe, lauding it for its supportive fit and general responsiveness. The combination of different innovations brought harmony between runner and technology, making the connection of the Ultra Boost with its wearer feel seamless.
Suffice to say, it was a smash hit with runners, but the unique story of this sneaker doesn't end there. In May 2015, Kanye West championed the Ultra Boost "Triple White" during a memorable performance at that year's Billboard Music Awards and continued to wear them during subsequent performances. This caused a spike in demand that adidas couldn't meet because the Ultra Boost was only manufactured in one location. Prices skyrocketed on resale sites, only fueling consumer desire.
Adidas running's Creative Director, Sam Handy, said that it was never meant to be a lifestyle shoe. When you consider the fastidious, performance-led approach to the design of the adidas Ultra Boost, Handy's statement makes perfect sense. It is highly unusual that the most advanced running silhouette of its time also amassed a loyal streetwear following, but this is perhaps partly explained by the idiosyncratic bubbled rippling effect on the exterior of the Boost's midsole, which gave them a unique and stylish finish. Always looking to progress, adidas brought sustainability into its actions when it partnered with Parley for the Oceans and used repurposed plastic collected from the ocean for the Primeknit upper.