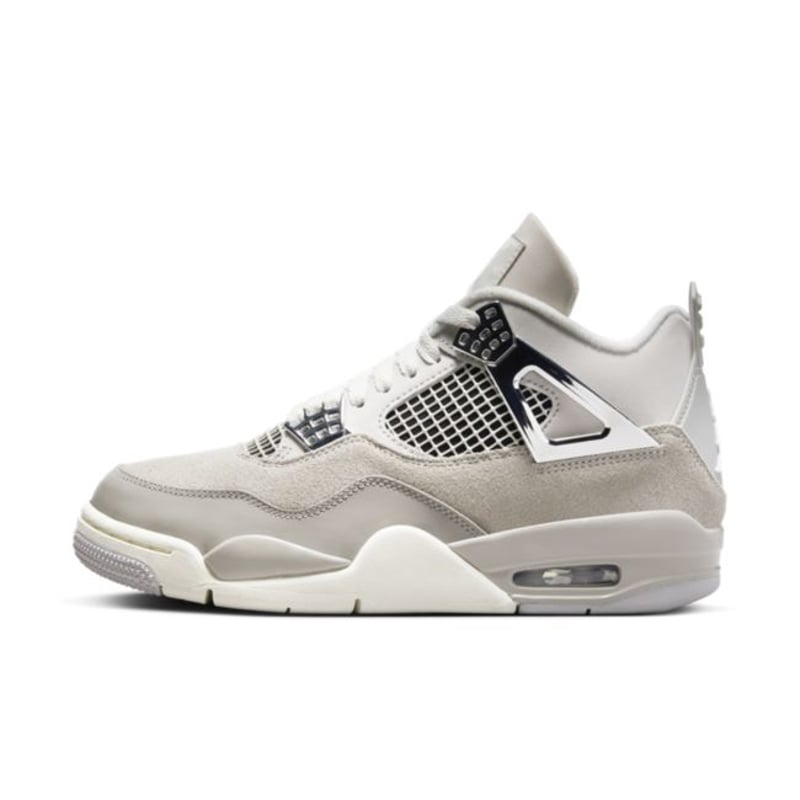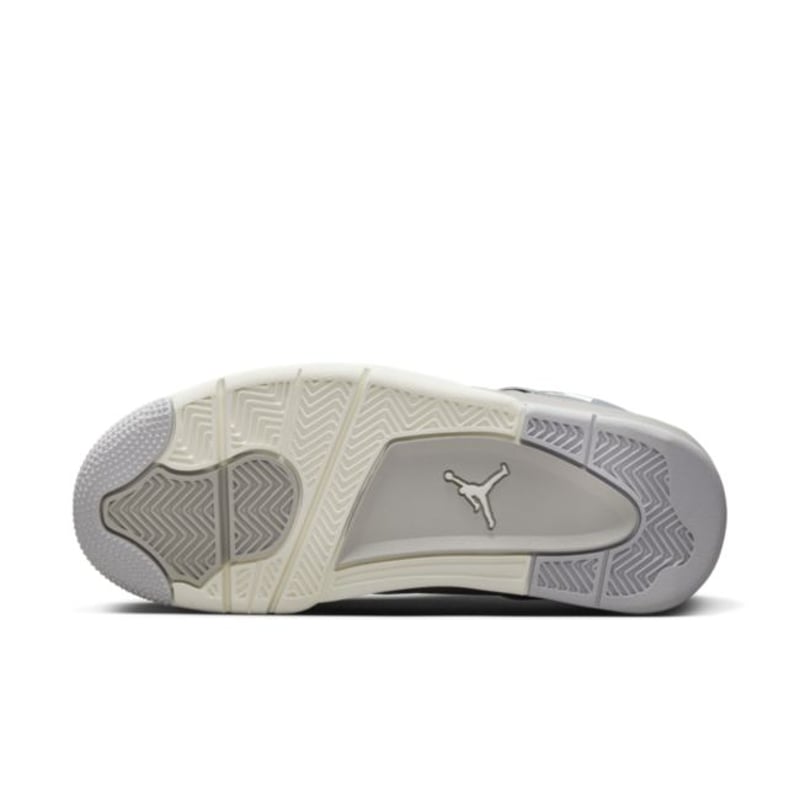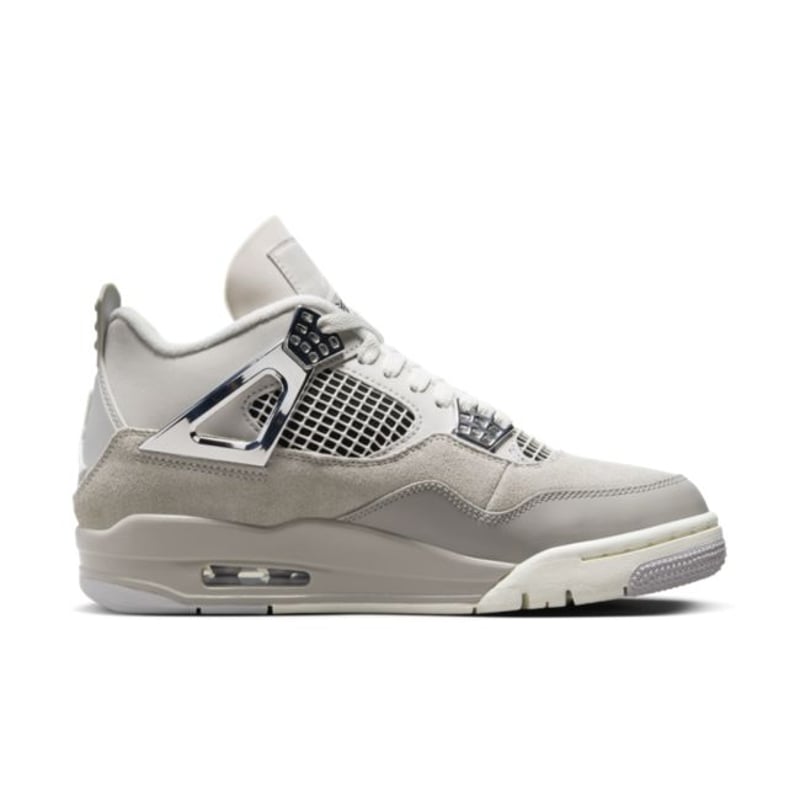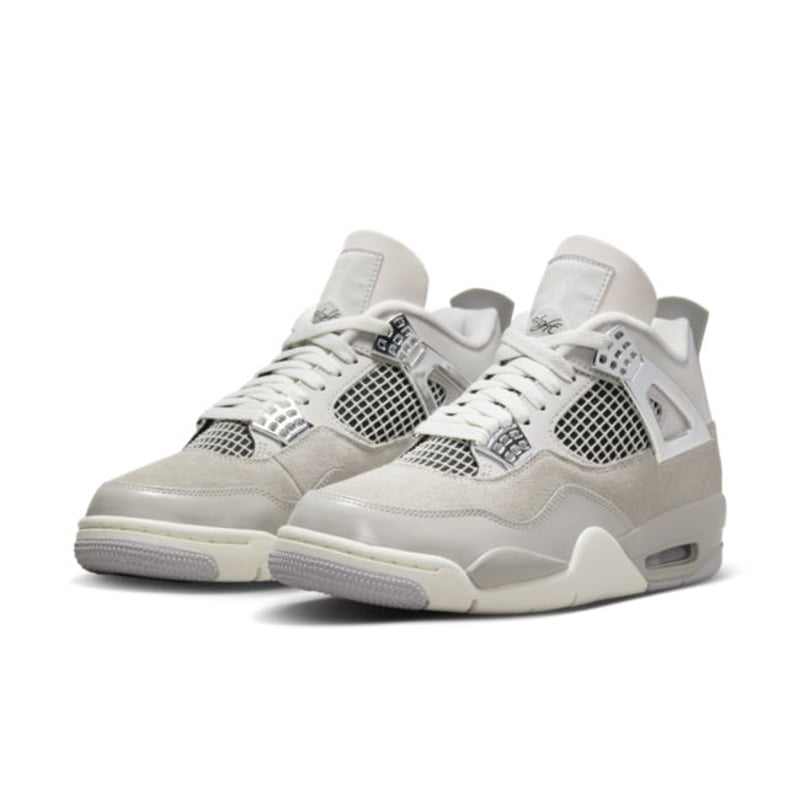 This Jordan 4 Retro sneaker has been nicknamed Frozen Moments in reference to an iconic advert from 1996 in which the legendary basketball player leaves the defenders standing in awe as he dunks the ball. The commercial features a greyscale colour palette which to an extent determines the hues found on the shoe, which is covered in charming neutral tones. Neutral Grey starts things off on the toe and heel of the outsole, the former coated with star-shaped structures, the latter herringbone grip lines. Light Iron Ore fills out the smooth part in the centre and another section of herringbone tread that lies beneath the forefoot. The rest of the outsole comes in Sail, as does the Jumpman that resides under the arch of the foot.
Meanwhile, the midsole also blends different tones, firstly with Sail around the toe and lateral flank, then with Light Iron Ore through the rest of its polyurethane construction. Air cushioning is visible through a window in the heel of this feature, its bouncy structure providing high levels of comfort to the wearer. The upper alternates between Neutral Grey and Light Iron Ore across its leather and suede surface. This latter material forms the main overlay that stretches from heel to toe through the middle of the foot, while smooth leather has been used on the forefoot overlay and the panels that shape the top part of the shoe. Breathable mesh netting covers black areas either side of the quarter and at the bottom of the beige tongue that help to ventilate the foot. Between these sections, shiny Metallic Silver lace cages bring a stunning lustre to the sneaker. Sail-coloured laces thread through these fan-shaped structures at each end of the eyestay, and Metallic Silver structural wings bolster the flanks.
Off-white tones blanket the inner, covering everything except the black Jumpman silhouette on the insole. Sewn into the soft padding on the back of the tongue is an Air Jordan patch, and on its other side is a Jordan Flight label that displays black writing and an off-white Jumpman upon its beige surface. Moving to the heel, the suede overlays arc downwards to make room for the exaggerated panel that has been moulded around the back of the foot. Its upper part is shaped like one of the lace cages but with the holes filled in to make a convenient pull tab. Then, a concluding Jumpman logo rises up from its centre in muted off-white tones to round out this charming sneaker.